Characters In Flight operated by Aerophile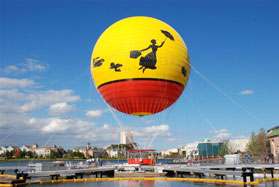 The fun soars to new heights at
Downtown Disney
® West Side at
Walt Disney World
® Resort with an iconic new tethered balloon that takes Guests on ascents of up to 400 feet above the waterfront.
Characters In Flight operated by Aerophile is a 72-foot-diameter balloon with a whimsical design featuring silhouettes of a dozen of Disney's "flying characters" - such as Mary Poppins, Peter Pan and Dumbo. For each six-minute trip, approximately 30 Guests will enjoy an eagle's-eye view of the expansive
Walt Disney World
® Resort in the vibrantly colored balloon thanks to its enclosed volume of 210,000 cubic feet of lighter-than-air gas. The ascents, by day or night, provide Guests with an unparalleled, 360-degree view of up to 10 miles.
Guests board a gondola beneath the 105-foot-high balloon from a landing platform on Village Lake at the end of the main promenade at
Downtown Disney
® West Side.
Riders can catch flights seven days a week. Hours Sunday-Thursday are 10:30 a.m.- 11 p.m., while ascents Friday-Saturday are 10:30 a.m. - midnight.
Tickets ($16 USD for ages 10-up and $10 USD for ages 3-9) can be purchased on site. Availability is on first-come, first-serve basis.