DisneyQuest

® Indoor Interactive Theme Park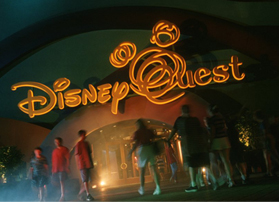 Create your own adventures in this one-of-a-kind indoor interactive Theme Park bursting with games that give "state-of-the-art" new meaning. Discover five floors exploding with cutting-edge technology, virtual reality and 3-D experiences - all fueled by Disney innovation and imagination. Leave some time to savor the fabulous food served by The Cheesecake Factory Express™. The entry portal, Ventureport, leads to four different zones: the Explore Zone, a virtual Adventureland; the Score Zone, for superhero quests; the Create Zone, for artistic endeavors; and the Replay Zone for nostalgic fun. Anyway you cut it, you're in the Zone at
DisneyQuest
®!
---
CyberSpace Mountain
– Design your own roller coaster on a computer, with special assistance from Bill Nye the Science Guy. Make it as scary as you want. When you're done, jump in a simulator and ride your creation in full 360° motion… if you dare!
Pirates of the Caribbean - Battle for Buccaneer Gold
– Put on your headpiece to inhabit a world booming with swashbuckling action. Steer your ship, fire cannons at marauding buccaneers and race for the gold!
Virtual Jungle Cruise
– Hop on a raft with other team members, plunge down a prehistoric river in the Dinosaur Age and hang on for dear life as you try desperately to avoid "deadly" obstacles in the running rapids. You may even get splashed!
Aladdin's Magic Carpet Ride
–Enter the immersive, magical world of Agrabah as you put on a virtual-reality helmet and go on a whole new adventure. Take a magic carpet ride with beloved Characters from Disney's "Aladdin." It's a trip you'll never forget!
Invasion! An ExtraTERRORestrial Alien Encounter
– Launch into the cosmos aboard your own virtual-reality spaceship. Rescue humans kidnapped by aliens to become the hero in this breathtaking outer space adventure.
Buzz Lightyear's Astroblasters
– Pilot your own futuristic bumper car in a battle where you're always under attack. Fight back by scooping up "cannonballs," loading them into your blaster, and firing away at the other cars. It's an asteroid-blasting game unlike any other!
Animation Academy
– Be a Disney animator! An instructor takes you through the process of drawing a Disney Character. You won't believe what you are capable of creating!
Ride the Comix
– Don your virtual-reality helmet and become a superhero, engaging in a cyber battle with comic book villains. Swing your laser sword in a fight to the finish!
Mighty Ducks Pinball Slam
– Become a life-size pinball as you bounce off bumpers and flippers to score points and compete to become the Mightiest Duck of all!
Pricing:
| | |
| --- | --- |
| One Day Guests ages 10 & up | $40 USD + tax |
| One Day Guests ages 3 – 9 | $34 USD + tax |
| Annual Pass ages 10 & up | $89 USD + tax |
| Annual Pass ages 3 – 9 | $71 USD + tax |
---
Additional Information:
Children under the age of ten must be accompanied by a responsible person 16 years of age or older.
Prices and showtimes are subject to change without notice.