Disney's BoardWalk Entertainment District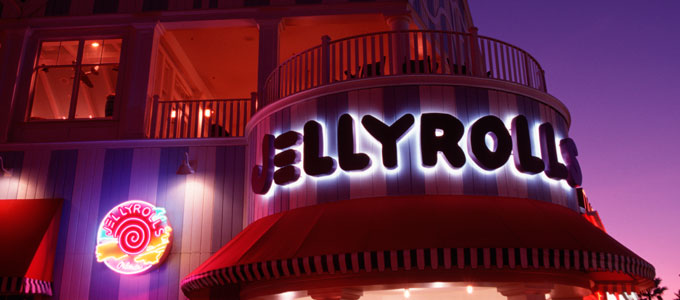 Take in an atmosphere that blends the timeless charm of a 1930s Atlantic coastal village with entertaining contemporary attractions. Stroll along the water's edge for great views and good times. With a wealth of shopping, unique dining and fun-filled entertainment, it's your best bet for a day or night out this side of Atlantic City.
Enjoy a lively selection of fun-filled nightspots at this one-of-a-kind destination. From dancing to singing along to catching today's hottest sports action, everybody in your party is certain to be entertained.
Atlantic Dance Hall
Get into the groove at this elegant nightclub that plays host to a variety of hot sounds. Be there after the sun goes down when the club comes alive with a DJ Dance Party, featuring all your favorite music. The beautiful art deco interior is topped with a twinkling ceiling of stars that shines down on the expansive dance floor.
The fun is "pier"-less!
ESPN Club
Good times are a slamdunk as part of the total dining, shopping and entertainment experience at this fantastic facility. This massive entertainment complex includes three action-packed sections: The Sidelines, an interactive multimedia entertainment center; The Yard, a sporting arcade of interactive games; and Sports Central, a full-service restaurant and television and radio broadcast facility.
It's a home run!
Jellyrolls
Sing along to the rollicking piano music as two keyboardists host a raise-the-roof party and tickle the ivories with crowd-pleasing favorites. The dueling piano maestros make this audience participation nightspot the party place to be on the BoardWalk.
It's twice the fun!
Additional Information:
(subject to change)
Minimum age for admission is 21 years old (Proper ID required.)
Non-stop dueling pianos start at 8:00 p.m.
Full-service bar from 7:00 p.m. to 2:00 a.m.
Cover Charge - $8.00 USD
Smoking is permitted at this location.