Disney's Typhoon Lagoon Attractions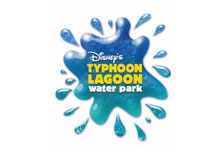 Disney legend has it that a furious storm once roared across the sea, hurling surfboards into trees, blowing small boats through roofs and impaling a shrimp boat on a peak of a great volcanic mountain. Left in the typhoon's wake was a water park filled with twisting tides, roaring rapids, wonderful waterways and relaxing rivers.
Whether you are navigating the nine exhilarating waterslides and streams or conquering one of the world's largest artificially created waves,
Disney's Typhoon Lagoon
promises the most wild, wonderful and wet water adventure known to man or fish.
Typhoon Lagoon Surf Pool

Take a dip in the azure blue waters of one of the world's largest wave pools. The surf's up all day long as body-surfing enthusiasts catch waves toward the sandy shore. Dive into the excitement, languish in the gentle waters farther from the action or lounge on the white sand beaches. Whichever you choose, you can always listen to the shrieks of delight every time a wave heads for shore. Surf's up!
Humunga Kowabunga
Triple your pleasure by riding one of three enclosed speed slides that send adventurers zooming in a blaze of water to a splashy surprise ending. Whip downhill, dropping five stories in seconds, in enclosed flumes, where you can't see where you're going until you get there!
Height Requirement
: 48" (122 cm) or taller
Gang Plank Falls

Get carried away aboard these four-person giant inner tubes for the whole family! Enjoy the view on your way down, but be on the look out for special water effects and rock formations. Whoosh through caverns dripping with water on this crazy curvy course, and laugh your rafts off!
Shark Reef

Swim into a tank with real live sharks and schools of tropical fish. This saltwater adventure takes place on a reef around an overturned sunken tanker. Non-swimming Guests can even go inside the tanker and observe the sharks through portholes. Sink your teeth into this exciting excursion!
Length
: 100 x 23 feet
Depth
: Up to 10 1/2 feet
Ketchakiddee Creek

An interactive world of pint-sized slides, fountains, and water falls designed specifically for young children. Romp on sloshy slides, fun-filled fountains, watery whales, slippery seals, an interactive lushly leaking tugboat and a mini ripply-rapids ride. Little squirts love the adventures that are just their size in this children's water play area. It's a little wateropolis of splashy fun!